What About Digital Files?
I'm occasionally asked about digital files of the portrait art we create.
I understand so many people equate digitals with photography, but digital files have many shortcomings. If you want to keep your photos for many years and make sure your kids can enjoy them as they grow up, there are better ways to enjoy your finished art.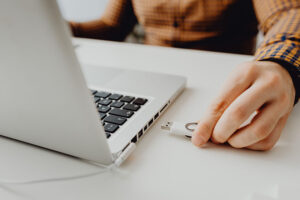 Don't get me wrong – I think digital files are great for today. Like most, I snap a lot of pics with my phone and have tens of thousands of these instant memories somewhere. These memories are easy to share or post online, but I realize they aren't going to be around forever. By the very nature of digital, they are easily lost, erased, or destroyed.
Vint Cerf, one of the fathers of the internet, warned that the 21st century could become a second "Dark Age" because so much data is now kept in digital format. He said that "future generations would struggle to understand our society because technology is advancing so quickly that old files will be inaccessible."
"If there are pictures that you really care about then print them out, literally." Mr. Cerf said.
This has already happened in the short time since digital photography has become the norm. My first digital camera (A Sony Mavica) recorded on a 3 ½ inch floppy disk. Can't read those anymore! Then we were told to store on CDs, then BlueRay, then USB flash drives (the original square plug Type A, which is quickly being replaced by the oval connector, Type C). As newer storage is developed, the older methods become outdated and quickly unreadable. You get the idea.
So we move to cloud storage. It's important to understand that cloud storage just means "someone else's computer". In the short time-span that cloud storage has become more common, there have already been scores of failures like companies shutting down or datacentres destroyed. This article from 2009 is already illustrating the problem, and every single company quoted in that article is gone today. But Google and Dropbox will always be here, one might say. Ten years ago we put the same trust in Sears and Zellers. Where are they today?
Even companies like Adobe aren't immune to loss. A flawed update to Lightroom instantly deleted millions of images stored in Lightroom's Cloud just because of one programmer's mistake.
You may have them, but can you find them? Since we're amassing thousands of digital files – pictures from our phones, documents, things friends send us, and more, it can be a real challenge to retrieve that one picture you remember from your vacation three years ago, or pictures from the photographer that gave you a flash drive  — "when was that? remember, our oldest has just started school? Have you seen that drive? I thought it was in this drawer!" 
"I know I have it here somewhere!!" has become a familiar struggle.
I love digital files!
I still love and use digital files for sharing, but never rely on them for long-term storage. So print them! The unfortunate reality is that very few people actually take the time to print their digital files, even will full intentions to do so. And with most photos living on our phones, they are especially prone to loss.
Fujifilm Ireland general manager Kyran O'Kelly said international trends indicate that smartphones are becoming everyone's primary image storage device, ahead of computers, tablets and digital cameras.
"We scroll through and reminisce, and share photos on social media, but most of our photos will stay on our phones. So if our phone disappears, so do our photos.
"People are losing precious reminders of significant events and memories in their family history."
Why we create physical art
So when people come to us for that special portrait, they're putting in a lot of effort. Clothing, hair, makeup, kids, pets, getting to the location or studio, etc.
Then we create the beginnings of the artwork with lighting, posing, composition, and much more. Next, we visit together to pick out our favourite poses and decide what the finished pieces will be. After these selections have been made, we add our artistic work, and produce finished art pieces at facilities in Italy, Ireland, the US, and Canada.
During this journey that started with a digital capture, your portraits are transformed into something truly memorable that will be even more valuable for those children when they are showing them to their kids decades from now.
What a loss it would be if all the expense and effort to create a beautiful family memory was gone as easily as digital files.
A professionally crafted portrait has a beautiful look that just isn't there when viewing it on a screen. When guests visit our gallery in St Albert, they see first hand what is missing in digital images when compared to a true piece of art. The difference is breathtaking.
Your portraits are worthy of the craftsmanship we provide. Your art is produced by the finest suppliers in the world. We've tested many, and only the very best are used to produce your family memories.
The best of both worlds!
And yes, we provide social sharing digital files of the finished art pieces we create because we know our clients want to share them online and have them on their phones. We can even create your very own app that makes it really easy to view and share your portrait art.  Our clients have their physical art for future generations and digitals for sharing today, too!