Discover why the readers of T8N Magazine voted us "Best Photographer" five years in a row!
Discover why the readers of T8N Magazine voted us "Best Photographer" five years in a row!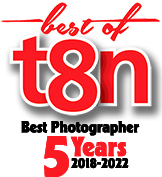 When we create your portrait art, we do much more than take a few pictures.
When you have your family portrait created by Whitesell Portrait Art, you'll enjoy special touches that make the experience fun! Your portraits will become cherished family heirlooms.
We care about our work with the passion of an artist, creating images that are beyond normal portraiture. All your portraits are skillfully art enhanced to show the best version of you, and meet our trademark quality.
Why Our Family Portrait Art is so Unique
Here's an overview of how we go about creating portrait art you'll love and will become valuable family heirlooms as time goes on:
Your Portrait Consultation
The first step is our pre-session consultation. This is where we explore why we're doing this. We'll explore the kind of artwork you're dreaming of, taking into account many factors – your unique family members, your preference for formal or casual, the place the portraits will be displayed, etc.
We'll discuss the location, clothing, hairstyles, and much more. You'll leave the consultation session knowing what to expect for your photography session. You'll also learn about prices and products available, and we'll have all the information we need to create the most amazing portrait art you've ever had.
Photography Session

This is where the fun happens! We want to make the experience a memorable occasion for everyone. We'll create lots of poses so you'll have plenty to choose from. We do all we can to make your photography session comfortable, and we take the time to create unique artwork that tells your story.
Design Consultation
The Design Consultation session is quite exciting since you'll see your pictures for the first time! We'll go over every pose and help you decide the ideal artwork to proudly display in your home and office, as well as gifts for family and friends.
We'll explore what will fit perfectly in your home's style, and with our unique ability to show you the finished artwork in your home before you decide, you know you'll love the results! We can even correct any "oops" that happen like a distracted child or closed eyes.
We use advanced technology to show you what your portrait art will look like on your own walls, so you can be sure it will fit perfectly. This short video shows how we can do this.
Installation and Presentation
There are so many stories of people with portraits still waiting to be displayed. That won't happen now, because we're not finished until your portrait art is being enjoyed in your home or office. That's why installation of your wall art is included.
The result! You'll marvel at the beauty of your new wall art displayed proudly in your home.
Everyone looks their best in a Whitesell portrait and you'll be so proud of your family every time you walk by it. This is your legacy!
Phone us at (780) 628-0628 or send a message: